Donkey Kong Jet Race PAL | WII | 4.31 GB |
Donkey Kong: Jet Race invites you to drum the Wii Remote and Nunchuk to zoom Donkey Kong through a series of races and be the first to cross the finish line. You'll collect bananas and power-ups to compete against other characters in the Donkey Kong universe like Diddy, Dixie, and King K. Rool plus four new characters!
Use speed, skill, and power-ups to blast your way past your opponents or use dirty tricks like punches and pineapple launchers to push them to the back of the race. Invite three of your friends over to play and have a four-player race!
Controlling Donkey Kong: Jet Race will get you moving! Race forward by drumming both the Wii Remote and the Nunchuck together at the same time to pound your barrels. To turn right or left, drum just one of the controllers for a quick turn to snatch a power-up or slide in front of someone. Once you get up to full speed all you need to do is steer-until someone tries to bonk you on the head and push you back! Use buttons to launch attacks and if you can string together a series of moves and attacks you get special combos that'll really put you ahead of the pack.
Challenge up to three friends to see who is king of the jungle with a four-way split screen mode.
Simple Wii controls make racing a snap. Shake the Wii Remote and Nunchuk to accelerate, then shake one or the other to turn. Press a single button or shake the controller to jump, attack or use items.
Target enemies with a Pineapple Cannon, skillfully chain together Wild Moves or use the Wii Remote to blast out of a Style Barrel.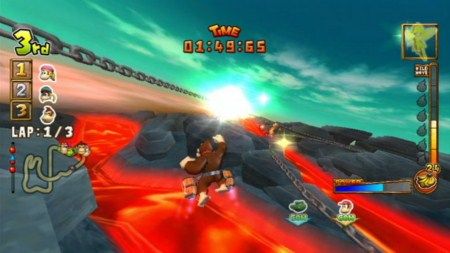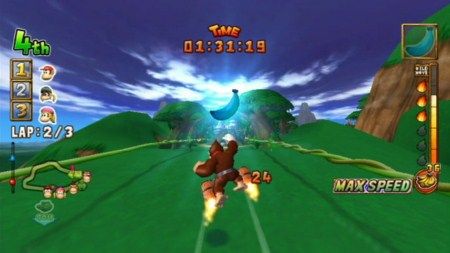 [sociallocker]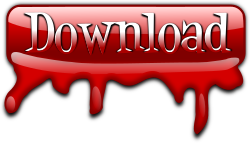 Lumfile
http://lumfile.com/rh227hi7yr11/Excgame.com.DoKoJeRa.part1.rar.html
http://lumfile.com/t8s40wnz4trs/Excgame.com.DoKoJeRa.part2.rar.html
http://lumfile.com/keobjgnx0d8v/Excgame.com.DoKoJeRa.part3.rar.html
http://lumfile.com/cq61q00c86at/Excgame.com.DoKoJeRa.part4.rar.html
http://lumfile.com/zvin4nf81bkp/Excgame.com.DoKoJeRa.part5.rar.html

Uploaded
http://ul.to/ddpqt6v2
http://ul.to/4kuock38
http://ul.to/1rloeaz3
http://ul.to/effomuxe
http://ul.to/ckluv2x2

Bitshare
http://bitshare.com/files/mvqkyevq/Excgame.com.DoKoJeRa.part1.rar.html
http://bitshare.com/files/zmy7m16t/Excgame.com.DoKoJeRa.part2.rar.html
http://bitshare.com/files/md005tbz/Excgame.com.DoKoJeRa.part3.rar.html
http://bitshare.com/files/1nlc0zyl/Excgame.com.DoKoJeRa.part4.rar.html
http://bitshare.com/files/g4okud9g/Excgame.com.DoKoJeRa.part5.rar.html

Turbobit
http://turbobit.net/1or3ps0k3te3.html
http://turbobit.net/5s0gw7544nk2.html
http://turbobit.net/nsqrmmyd49og.html
http://turbobit.net/est1mdukousk.html
http://turbobit.net/p1iix6lql8b9.html

Depositfiles
http://depositfiles.com/files/ad5ygb23n
http://depositfiles.com/files/klc4acn7w
http://depositfiles.com/files/lhlzjd59y
http://depositfiles.com/files/g0ylmpkbc
http://depositfiles.com/files/wnom8iqxg

filezy
http://filezy.net/89kbm8rni0nh/Excgame.com.DoKoJeRa.part1.rar.html
http://filezy.net/pzerjtkle6vm/Excgame.com.DoKoJeRa.part2.rar.html
http://filezy.net/cm595mwslbj4/Excgame.com.DoKoJeRa.part3.rar.html
http://filezy.net/zh1mawwcbcho/Excgame.com.DoKoJeRa.part4.rar.html
http://filezy.net/ror3zxz8fi36/Excgame.com.DoKoJeRa.part5.rar.html

No password
[/sociallocker]