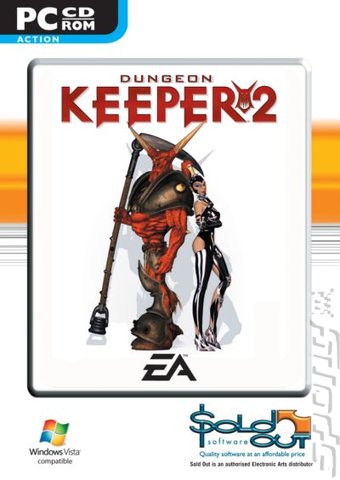 Dungeon Keeper 2 – Silver Edition Version 1.2 PC Download | Size: 495.48 MB
Dungeon Keeper 2 – Silver Edition PC Download
Dungeon Keeper II
Silver Edition
Version 1.2
This copy has had the disc security stripped out, so no more problems with the game failing to recognise the CD. It has been patched to version 1.7 automatically, with all three official Bullfrog bonus packs slipstreamed, as well as the map editor. The CD includes a LiveCD play option so that the game can be played on any PC without needing to install it, though the tradition install & play functionality is still there. All CD detection has also been removed so there is no need to find a no-CD crack.
For information on the game itself:
http://en.wikipedia.org/wiki/Dungeon_Keeper_2
May all your dungeons be dank and foreboding! 🙂
(Update!)
Version 1.2 is just a minor cosmetic update and version bump of the other Silver Edition. Only difference is some better use of the Silver Edition readme file and the inclusion of DirectX for older systems that might be hobbled together just to run the game in the native and stable Windows 98
 Depositfiles
http://depositfiles.com/files/89dk1502j
Turbobit
http://turbobit.net/uycoxhrlyr6u.html
Extabit
http://extabit.com/file/28ckylqqf24q1/
Bitshare
http://bitshare.com/files/pvc919ac/Dungeon.Keeper.II.Silver.Edition.rar.html
Brutalsha
http://brutalsha.re/n64j2fiu4gu9
Ufox
http://ufox.com/5ioapu3517ss
Ultramegabit
http://ultramegabit.com/file/details/bQCh41f3xcU
Uploaded
http://ul.to/nr8kkzne
Junocloud
http://junocloud.me/uo9927d6wese/Dungeon.Keeper.II.Silver.Edition.rar

Dungeon Keeper 2 – Silver Edition PC Download

Both comments and pings are currently closed.